March 15, 2010 - 9:16 PM
Dan Hardy: At a Crossroads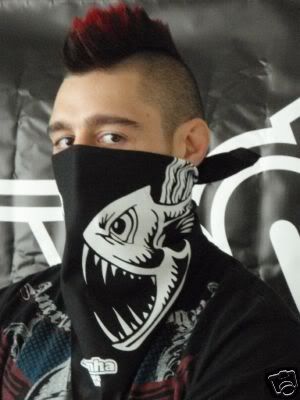 With only 2 weeks left until Dan Hardy faces Georges St. Pierre, I thought it would be appropriate to discuss the affect this fight may have for the collectibles of England's newest star. The biggest variable here is whether or not Hardy actually has the ability to pull off the upset. His best weapon is clearly his striking power and killer instinct. It was this combination of attributes that allowed Matt Serra to pull off the unthinkable against GSP in 07. Serra, however, benefitted from the fact that St. Pierre was undoubtedly aware of his potential on the mat. Hardy's mat game will not be met with the same respect.
If Hardy were to get the victory in New Jersey, it would surely solidify his place as the biggest MMA star fighter from England. Some might say that Hardy already holds that spot. If he does, it may currently have as much to do with the struggles of Michael Bisping as the accomplishments of Dan Hardy. Being the top draw of an entire nation would only increase the interest that Hardy currently enjoys in the hobby. Featured prominently in Main Event, Hardy cards would become the hottest in all of MMA collecting.
On the other hand, if Hardy meets the fate that so many observers expect him to find when he squares off against St. Pierre, all is not lost for his career or trading cards. When his title shot was announced, many felt that Hardy had not faced enough of the UFC's deep welterweight division to warrant it. A loss would mean that Hardy would still have a laundry list of potential opponents. Also, with St. Pierre being such a prohibitive favorite, a spirited defeat may not take much shine off of Hardy's rising star both in the ring and the hobby world. Keep your eyes open.
A Look at the Octagon of Honor
Many collectors looked at the Octagon of Honor inserts from Topps UFC 2009 as little more than an indication that an Auto was coming. While this got the pack-ripper's attention, the card itself was often passed over. This is unfortunate; as a few of the fighters featured seem to remain in relative obscurity despite their status as both legend and pioneer.
One of these fighters was Ground and Pound stalwart, Dan Severn. The former amateur wrestler fought memorable matches against Royce Gracie, Oleg Taktarov, Ken Shamrock, and Tank Abbott during the earliest days of American MMA. Though the title was not official at the time, Severn was one of the first Heavyweight champions of the UFC. Had Severn been given the opportunity to fight MMA as a younger man, his career may have been much different. As it were, he was forced out of the top level by fighters who were bigger (Mark Coleman), faster (Pedro Rizzo), or both (Josh Barnett). Maybe the most impressive part of the Dan Severn story is the fact that he continues to fight in his 50's. While the last 5-10 years have not included many big names on the resume, Severn has earned more than 90 professional MMA victories.
Another forgotten OOH member is the first 170 lb. champion of the UFC, Pat Militech. The "Croation Sensation" bridged a gap between the barbaric style vs. style days of the UFC to the refined Mixed Martial Arts that we see now. His career included many methodical victories, but was highlighted by two great fights against Shonie Carter. It was Militech's loss to Carlos Newton that opened the door for Matt Hughes to make his run through the welterweight division. It is likely that Pat will be remembered by history as the trainer of Hughes and Pulver among so many others. Pat Militech, however, was a great fighter first. Remember that the next time you pull one his Octagon of Honor cards .
.
Off Topic: March Madness Picks
This site may be dedicated to MMA and its trading cards, but that doesn't mean that we can't take a minute to have a look at the NCAA tournament bracket that was released yesterday. I'll give you my picks, and you can all feel free to ridicule me when they turn out to be completely wrong. The "Big Dance" always provides for surprises and intrigue, but this year's pool of teams is particularly well matched. Any one of 30 teams has the potential to be crowned as National Champions. The tops seeds seem just as vulnerable as the Winthrops and Vermonts. Traditional powers like Connecticut, North Carolina, and UCLA will be at home watching, adding to the feeling that the tournament is wide open. It should be exciting. Anyway, strictly for entertainment purposes:
Final Four: Kansas, Syracuse, West Virginia, and Texas A&M
Sleepers: Notre Dame, Cornell, New Mexico State, and UTEP
Upset Special: Robert Morris University
Good Luck with your pools!